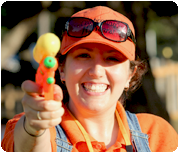 Interested in joining the team? Contact the directors Josh or Jasmine.
To apply, please fill out the online form at suvic.joinateam.org and select 'Torquay SUFM' as your team when prompted. 
TORQUE Training Day 
This training day is highly recommended for all team members; TORQUE is run by Scripture Union for "Equipping people for mission".

You need to register yourself at www.suvic.org.au/torque before October. Select 'holding account' as your payment method.
Team Training Weekend
This is compulsory training weekend for people attending the 2018 Torquay Beach Mission it is also a requirement of Scripture Union.